Last year I saw this on the Grandinroad website: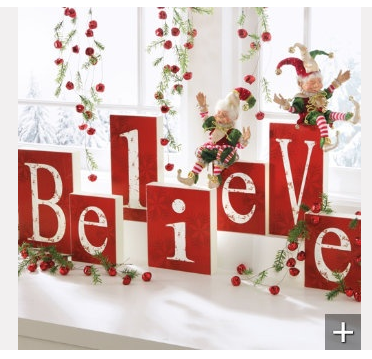 Super cute right?  I wanted to use it as my centerpiece but by the time I got around to ordering it?  Gone.
I noticed this year it came back again but it was too late, I already made a copy of it myself and this is how it turned out last year.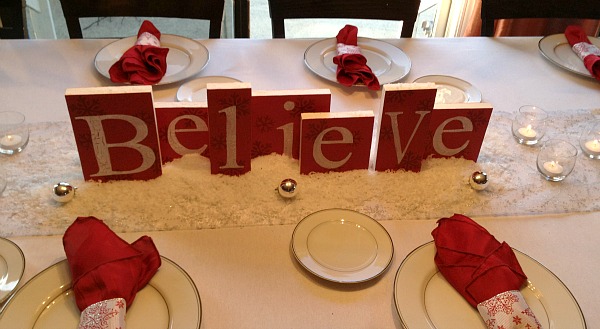 Also cute right?
I've had many compliments on them and I tell people that I made them but that they can get them from Grandinroad, except they sold out of them again this year.
My friend loved them so much that I decided to make her a set for Christmas this year.   And lucky for you I took pictures along the way in case you want to make your own too.  Actually, that right there is why I don't craft blog more.  I'm not a "Hey let's stop and document this" sort of person.  I just like to do it.
These blocks can be made into any word or Holiday theme.  I'm thinking of making a Be Mine one for Valentines.  I just really like cutting wood.
Materials:
Wood- I used pine in 7 1/4 width and 3/4 thickness.  They came in 6 foot planks for $5.  At 6 feet you have enough to make 2 so make one for a friend.
White spray paint
Red spray paint
Darker red craft paint
Snowflake stencil (the one I used was Martha Stewart and I liked the 2 different sizes)
Stencil Brush
Tape
Some way to cut the wood.  I used a compound miter saw but you could also use a jig saw.  I suppose you could also buy wood blocks but that might be more expensive.
How To
First cut your wood to the sizes you need.  Mine were as follows:
B — 7 .25″  x 5″
E—  5″ x 5″  (all same)
L— 7.25″  x 2.75″
I—6″x6″
V—7.25″x 3.5″
So the B,L, and V used the whole width of the wood I had so only one cut for those.  The E,I,V's had 2 cuts each.
I'd insert a picture of me cutting wood here but safety first.  Also?  Unshowered.
Once you have your wood cut sand down the edges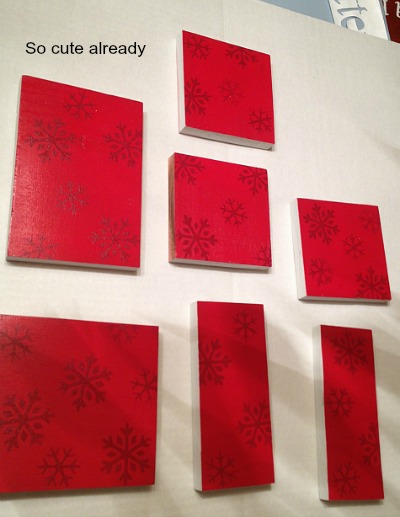 Now to make the letters. There are a few ways you can go about this.  One way would be to buy letters and stick them on.  Scrapbook stores have adhesives of all shapes and sizes these days.  They also usually have machines that you can use in store for a small fee.   A cricut, Silhouette, or a Sizzix machine would all work.
If you don't have access to these machines, you can use microsoft word to pick font and then use the outline feature, print them on your paper and then cut them.  The only letter you're going to have an issue with is the V.  I made mine skinny so it could go on the skinny block.  You can adjust all the sizes to your own liking.
On mine, I actually made a stencil of each letter and then crackle painted them.  For my friends, I decided to cut the letters out and glitter them.  You can't tell in the pic but they're really pretty glittered.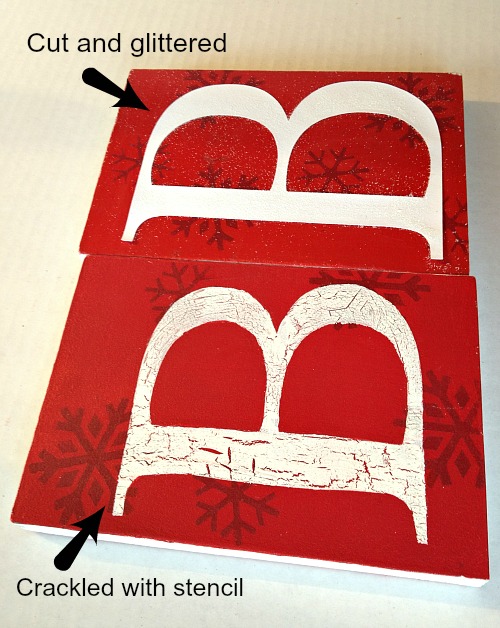 My son saw me working on these and he said "Your not fixing the back are you?"   Because I used this as a centerpiece last year, there were going to be people seeing both sides of the blocks.  I didn't have enough time to finish the back so I just did this with post it's.

I actually do have time to fix them, but I think I'll leave them just the way they are.