I am a lover of Pinterest and this recipe was one that caught my eye. I first made it about 4 years ago and to say it went over well would be an understatement.
Is it sort of a pain in the ass to make? Yes.
Is it worth every pain?  Also yes.
I have no idea if the original recipe is an authentic German dessert but I have a friend who's husband is German and he seemed to think it was. Having been a pretty decent baker in my full gluten days, I read the recipe and realized that it left out some information and I have modified it a bit over the years.
I highly recommend you read the recipe more than 1x before you make it.
The filling can be made a day before but I like to make the puff pastry and assemble it the day of.
Ingredients:
Puff Pastry– I use store bought sheets but knock yourselves out making it from scratch if you want. I won't be posting about that here.
Filling: 
Heavy Whipping Cream: 14 oz
2.5 cups milk (I use 2%)
2/3 cup sugar
2  3.4 oz boxes of vanilla instant pudding
1 envelope of gelatin
2 lg eggs
1 Tbs pure vanilla
1 Tbs Rum (I use Capt Morgan)
9.5 oz room temperature butter (Room temperature IS IMPORTANT)
Making the Filling:
Place 1 cup of milk and both box pudding mixes into a mixing bowl. Use a stand mixer, hand mixer or whisk to mix items until blended well. Add eggs one at a time until it's well blended. Let this sit in bowl while you do next step.
Put 1½ cup milk with 5 oz sugar in a sauce pan and bring to a boil.
Once milk and sugar mixture are boiling,  scoop a small amount of the pudding mixture and place in the boiling milk, stirring constantly with a whisk. Continue doing this until pudding mixture is combined with boiling milk mixture. Once combined I add 1 packet of gelatin by sprinkling it lightly over mixture and using a whisk to mix in. If you put too much at a time, you will get lumps. Just lightly dust it with gelatin and whisk in.
Add vanilla and rum, whisk in.
Once pudding thickens, take it off the heat and pour it through a fine strainer over a 9×13 dish or I have also poured it into a jelly roll pan. You want to cool this mixture down completely. Cover it with plastic wrap so it doesn't form a "skin" on top. Put this into the fridge and stir the mixture every 15 minutes or until fully cooled.
Make sure you replace the plastic wrap each time you stir to prevent a top skin from forming.
You want this mixture completely cooled or it will melt the butter in your next step and that is NOT what you want.
In a mixing bowl, whisk butter until it gets fluffy. Fold it into cooled pudding mixture.
For this step I have the pudding mixture in a mixing bowl with the flat beater blade. While mixer is set on LOW I add butter a little at a time until JUST blended. I keep adding butter until it's all mixed in. Do not over mix. Do not use a hand blender with "whisk" attachments. Hand fold in butter if needed.
Take heavy whipping cream and whip until there are strong peaks. I add a few tablespoons of powdered sugar to it. FOLD whipped cream into pudding/butter mixture.
Fold, fold, fold, fold until well blended.
Puff Pastry:
I cut my puff pastry into the size squares I want before I bake it. I find cutting it after smooshes it too much.  Follow package instructions for baking.
Take puff pastry square and cut in half width wise. Place bottom piece on plate. Fill with filling, top with the top puff pastry piece. Dust whole thing with powdered sugar.
SERVE and ENJOY.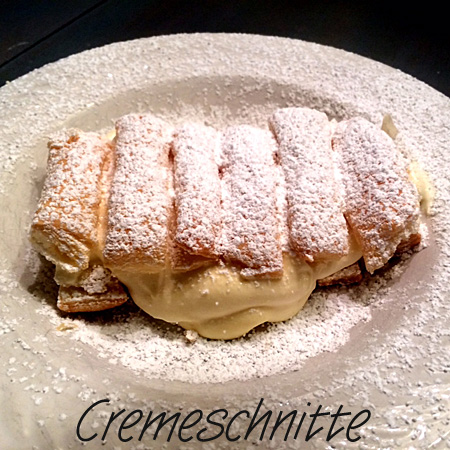 While I can't eat it with puff pastry anymore, I do enjoy eating it with these Schar cookies. You can also make it into a trifle with them.