Last year Sherwin Williams saw some stuff I did and said "Hey, we like your stuff, have any more projects coming up?"
Duh. So they sent me some gift cards to buy paint for my next project.
Now, I finished my sons room and have gift cards left over ($75) so I'm giving them away. Maybe you have a themed room you want to do. Just leave a comment to be entered. :)
______________________________________________________________________
We know how I like to do a themed room right?
I knew my younger son's theme was going to be sports so I had put a few items on his Xmas list last year knowing that we were going to redo his room over school break.
Ha. hahahahahaha.
Then we all got sick.
THEN I thought I'd have it done by spring break.
FYI- I am the worst at time management ever.
In my defense, I've been sanding for approximately 3 months.
Why you ask? Because his last room had a chair rail that now didn't fit into my design. (I just used the word "design" like I have some sort of method. I'm adorable)
So I took off the chair rail and WHOBOY did that make a mess.
Honestly, at this point I was already to put the house up for sale.
"House for Sale: Comes with 1000  feet of sandpaper"
Once I had the wall ready for paint, I took one look at that black chalkboard paint and cried. Not really, but honestly I just didn't feel like priming the black.
I ignored the nagging primer voice and headed to the paint store.
I have used Sherwin Williams paint for years and I always use the Super Paint line. Why? I find that it's not too thick when I free hand and that is important to me. I told the man who worked there my black wall issue and he suggested the Emerald line. Since they had sent me gift cards, it felt like a no brainer. It's more expensive than what I normally spend on Super Paint but it was on sale. In the end it wasn't that much more, and I still didn't feel like priming or buying primer either for that matter.
I don't even have to tell you how the Emerald paint went down. Look for yourself.
This is ONE COAT of paint. No priming. Now, I didn't expect it to cover in 1 coat but I can tell you it did cover completely in two coats. NO PRIMER. Over black. Color me Misty.
That's the color by the way. Misty 6232
I picked a pretty neutral background because we were going bold. Sports Bold.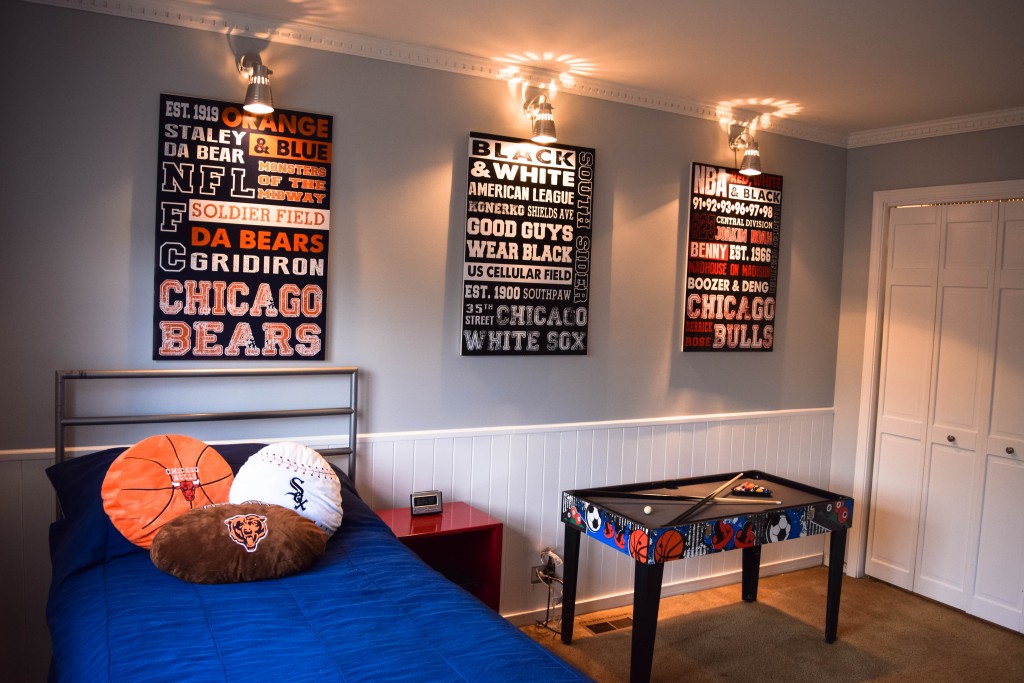 Note his roller blind.
I put the City of Chicago skyline on it and it's my favorite thing about his room.
Close up of window blind.
OF COURSE I had to make it glow at night.
_______________________________________
Sherwin Williams sent me gift cards to buy paint. They didn't tell me what to do because we know that I'm not very flexible. They also didn't even ask me to write about them but I was going to anyways so these are my own words and opinions. I'm giving the gift cards away on my own because I like to paint and want to help you paint too. I chose the Emerald paint as a trial and absolutely see a difference so I liked it on my own but you can get whatever you want. Paint On Friends.