Someone recently asked me where I come up with these ideas.   The short answer is that creativity rules my brain parts.
This may scare you.  Completely understandable.
I really don't know how I came up with this idea of having a doll face gallery.  I was trying to come up with a way to include the doll makers wife into the scene and utilize this wall on the porch at the same time.
I had a heck of a time coming up with the materials I would use.  First of all, they had to be lightweight because I was going to be hanging them.  Then they also had to dry somewhat quickly and finally, they couldn't be too expensive.
For the molds themselves, I found this Amazing putty and with a coupon, it wasn't too expensive.  It worked perfectly.   For the faces, I used Crayola model magic.  Though it dried a little slower than I would like, being so lightweight won me over.
 I mixed equal parts of the stuff together and smooshed it onto the dolls face.
I didn't have to wait that long before it was set and then I could just peel it off.
Oops.  The eyelashes came off on that one.  EVEN BETTER!
I then worked the Model Magic into the molds.
I checked to make sure all the features were pressed sufficiently before I let them set up.
They weren't super perfect, but I was more than ok with that.
I found a bunch of ornate frames at a garage sale for .50 each.
BUT THAT'S NOT ALL
I felt I was on the right track but I knew that for nighttime I was going to have to light them somehow.
That's right.
Black–Light–Paint.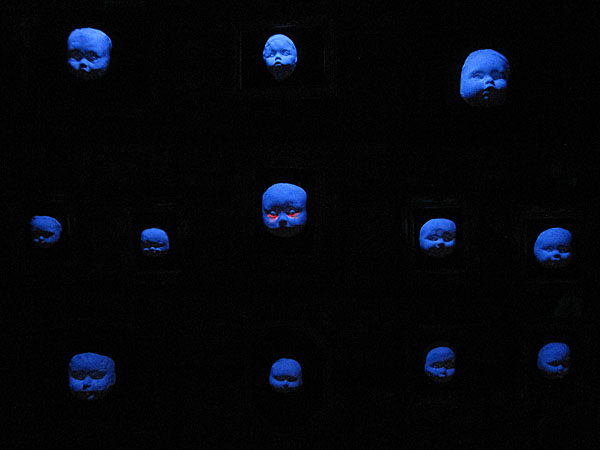 And yes, this one is crying.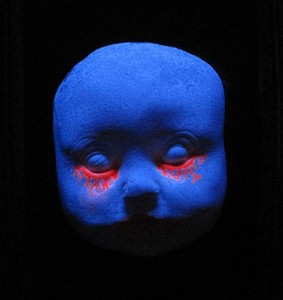 And this is the point where everyone unsubscribes from my site.
Completely understandable.