First up….the tombstone winner!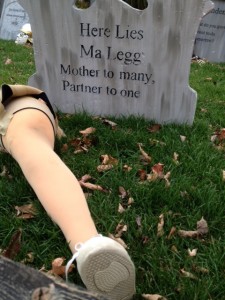 Thanks @Melisalw  from Suburbans scrawl!
Runner up goes to Robyn who submitted:
Pete Onawier
His death was shocking.
And finally the 2012 yard video!   Totally unedited because between the bathroom poop explosion (see previous post) and Hello?  Hallloween!  This is as good as I get. LIttle FYI, the wind in the beginning only lasts about 10 sec so if you turn down your volume, turn it back up to catch all the sound effects going on.
I really hope you enjoyed my season as much as I did.
PS For more yard still pictures check out my Instagram feed.
PPS I ate a Butterfinger for dinner.