How to pick a Crappy Contractor Part One is here. (at least look at the before picture)
I didn't really intend to leave you hanging.  There's just so much shiny in the world.
_______________
So, we had that first meeting with Mr. Perfect and laid out our hit list for our new bathroom.
We wanted a new shower, two sinks, new cabinets, light fixtures, toilet, and flooring.
No tile.
Oh, and buh bye gold EVERYTHING.
With each of these listed items Mr. Perfect had catalogs.  He was helpful guiding us through them and giving us his input along the way.  He took notes and measurements and wrote them down as we went along.   He was instrumental in helping us pick out the right look for the shower area, including the perfect shower door.  He was competent in his knowledge.  He was able to answer our questions with confidence.
What kind of questions did we ask?  We basically had looked up a "How to pick a contractor" article cause I'm pretty sure that's why Google exists.
Also?  How hot will our new mirror make my ass look because our other one is a jerk.
The end of this meeting resulted in a really good idea of what we wanted done, how it would get done, how much it would cost and how hot my ass would indeed look.
SOLD!
After that we called Mr. Perfect's company to sign a contract.
::Door bell rings::
And we opened the door to our first encounter with Johnny Half-Baked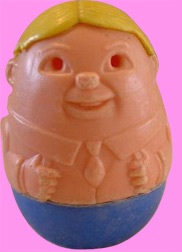 Johnny Half-Baked was actually the owner of the company.
Word on the street was that his father gave him the company after he retired.
But where's Mr. Perfect?  He was on leave from the company.
Ok then, let's sign that contract and get this hot ass going.
After we signed the contract and gave him a deposit, we again asked about pulling permits.
Mr. Perfect as assured us that it was not a big deal.
Johnny Half-Baked stumbled through his words asking if we REALLY wanted to pull permits and mentioned that we would have to pay for them.
Um. Yeah.  We know that and yes, we do.
"Because permits can really get in the way and make the job take longer"
Yeah. We're ok with that.  Our bathroom isn't going anywhere and we have 2 others to shower in.
"You know that the permit people could come and reassess your house and that could change your house value"
"It's just that the town inspectors can really hold stuff up"
>Insert Red Flag One<
My husband makes his points on why we want to pull permits.
And now?  I'm annoyed.  Don't annoy me.
I say "Listen, my husband and I are not plumbers or electricians.  That's why we have it inspected.  If your work isn't up to code?  That's their job to catch you, not mine. We want permits."
And with that Johnny Half-Baked learned that I wasn't someone to table check with.
Johnny Half Baked left that day with the contract, down payment, and a quest to pull permits.
The next we heard from Half Baked (about 2 weeks later) he had called and said that we (as the homeowners) needed to fill out the permits for the job.
Huh.
>Red Flag 2<
My husband got the permits and as he looked over noticed the spaces for job specifics (including drawings) and requested contractor's license numbers.
Besides the name and address info, we were unable to fill them out.
We let Half Baked know this and he agreed to fill them out for a fee.
A fee that was already figured in with Mr. Perfect we reminded him.
>Red Flag Three<
It took him FOUR WEEKS to fill out and submit the permit forms.
>Red Flag Four<
Honestly, at this point we already knew this guy had taken a few too many pipe hits in his lifetime and had more shade going on than a hundred year old oak.  The problem was, we already had given him a deposit.  We thought really hard if we should just lose the deposit.  In the end, our budget was already tight so we drank some Kool-Aid and powered on with Half Baked.  I mean,  how much more would we really have to deal with him.
How much more?  More.  With each step of the way, we actually could see the brain cells dying as he spoke to us.
And soon?  Not only would we have to deal with Half Baked but his sidekick Obtuse Moron as well.
>>>>>Part 3- Half Baked and Obtuse Moron.  A lot like Weebles but less fun.
___________
I know a 3 part-er.  Really?  SHINY… shiny…. shiny……