By now, I'm sure you get it.
I'm completely powerless to the creativity of Pinterest.
BUT
At least it's not just me sitting around all day.
I'm actually putting  some of that inspiration to work.
I had the following pinned on my Halloween board.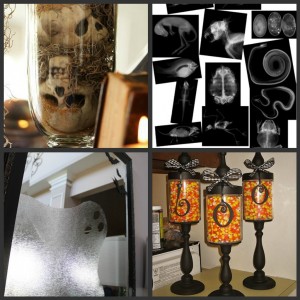 And this is how I incorporated the ideas onto my kitchen side buffet:
I made the ghost out of iron on sizing material.
You can get it by the yard wherever they sell fabric.
I left the middle open so I could put Halloween goodies there on a platter.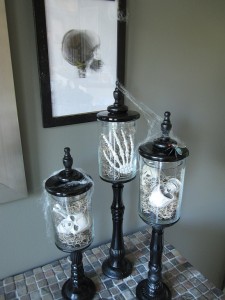 I made the glass trio using this tutorial.
I already had the candle holders that I mounted $3 glass containers onto.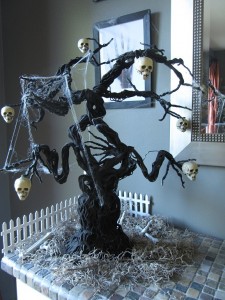 I printed out the xrays just from Googling images.
If it happens to be your foot, let me know and I'll give you credit.
Side Note:  That "buffet" is actually an old dresser that a friend of mine was throwing out.  It was a dark brown varnished piece.  I knew a fresh coat of light paint, new hardware and a tile top could make it fabulous.  I love it.