You know Pinterest don't you? If not, just stop reading this post and RUN to get it.
Really.
Go.
You don't even have to come back. Because you probably won't.
Before Pinterest there were bookmarks. Silly bookmarks. Who can read a link name and remember what the hell you were saving it for? Not me.
In Halloween's past I would save link after link of project ideas. I'd even then organize those bookmarks into folders. The next year would come and I'd have the project picture in my head but WHERE WAS IT?!
SpookyBlues.com?
DarkAndSpooky.com?
SpookyAreUs.com?
You get the picture. Or at least now you do if you use Pinterest.
Now when I "Pin" a site it links the picture automatically and I am able to categorize these Pins onto boards of like items.
To say it's my favorite online site is an understatement. I would PAY for it. I would.
Just don't tell them that.
The ongoing joke is that you pin a million things but nothing ever gets done. This certainly was the case with me. Until now.
I wanted to change up my front entry table for Halloween. I had the following pinned as inspiration: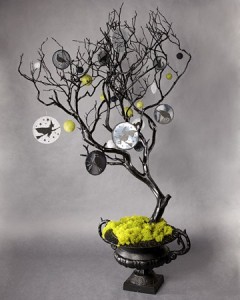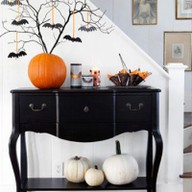 I LOVED the branches and urn look of the one and I really liked the set up of the other table. I wanted to combine these ideas some how.
This is what I came up with: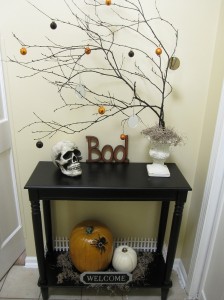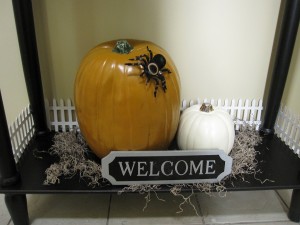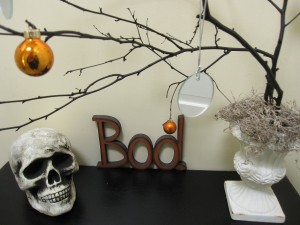 *I had the urn, moss, branches, fence, BOO, welcome sign, skull and pumpkins already
*Ornaments are round balls and glass disks. I found both at Michael's
______________________________
Thanks to Dutch Being Me for her Pinterest Challenge and inspiring me to get my butt moving.