Which I know sounds crazy.
But I am.
I start planning in March. You see, the winters here in the Midwest can really suck the life out of you come March. You THINK that spring is around the corner but it's not until May that it really starts to warm up. This makes my entire being go a little stir crazy so I start planning Halloween right at the point when I can't take it anymore. In March.
I start by looking over any notes from last Halloween. What props worked, what didn't work, what broke or needs to be fixed. I then cruise around the internet for any new ideas that I might want to incorporate. In years past, this involved saving link after link in my Halloween bookmarks, but now I have Pinterest.
Let's take a moment to bow to the greatness of Pinterest.
So this year I know that my mausoleum took a beating in the wind last year. By beating, I mean really got destroyed. Here in the Midwest, fall means wind. Those winds help blow leaves off trees and also are a threat to everything I do for Halloween. That wind also broke one of my cemetery gates. I hate spending money that I already spent on building it the first time. The nice thing about this year is that I won a gift card to Lowes at Blogher and this is going to buy me some wood. Heh.
In addition to the above, I also rearrange the collection of skeletons that I have. In the past I've done pirates, camping, and story time displays. This year I plan to do a "last dinner" of sorts. I've got candelabras and plates so far for the table. This will need more thought soon as the items sometimes takes multiple store trips to find.
Did I mention that I'm behind?
Here's the breakdown*:
March- planning
August- project supplies shopping
September- All projects are built/fixed this month
October 1- The take down of Halloween from attic, start set up begins.
It's almost September 1st and I have not yet shopped for my project supplies. I really need to get on this. I mostly have not done it because I don't enjoy shopping at the hardware store with both my kids.
"Stop climbing on the wood you're gonna get a splinter!"
"You are NOT John Deere, Get off the tractors"
My younger son starts school on Thursday so that sounds like a good day.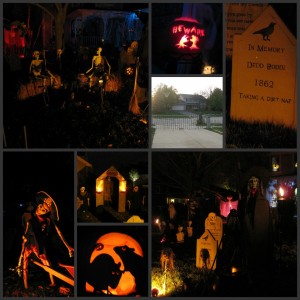 FYI- Halloween is probably going to be taking over my blog until Oct. I didn't document any of it last year and am really going to try to this year. Enjoy. Or not.
On a last note, if you want to read how this craziness started, I did write a guest post last year on it. If you haunt it, they will come.
*I plan on doing more of a specific shopping breakdown next.
Its crazy balls y'all