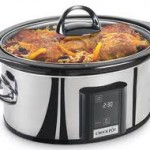 If you would have told me a year ago that I would be sitting down to write about crock pots I would have told you to put down the pipe and hand me that bean burrito.
Really.
What started off as a simple tweet landed me in a crock pot of controversy.
"For Sale: One Crock Pot. I'm convinced nothing that tastes good can be made in it."
About a million crock potters replied to me over the next 2 hours. It's almost like the President of the Crock Potters Association put out an alert:
"Attention crock potters: We have an infidel in our midst. Get her!! "
And with their rallying cry "Go Mushy or Go Home!", they did. I had links, recipes and websites thrown at me like cans of tomatoes ready to be set on low. All the recipes read the same after a while. Liquid, meat, low, 6-8 hours. I just kept thinking to myself: "But I don't mind chewing my food. Shouldn't I use my teeth while I still can?" Then I put out my own call for help.
"WHERE ARE MY FOODIES? I'm taking some heat for the crock pot. Come on. I can't be the only one who thinks they suck the life out of food"
—I'm with you 100000% I get a lot of smack for talking badly about the crock pot too. It just grosses me out. Kills food. @JenSenecal
—It's like meat hanging out in the wet spot. And I hate when that happens to me. I wouldn't want to eat it. @TheGlassPhoenix
—I use a crock pot once every two years, if that. It's my dirty little secret @thepioneerwoman (and let's be honest with this one, I win right?)
Then there was some funny stuff.
—I suck the life out of food, crockpot or not. @the818
—It's because most people think you're tweeting about COCK & POT lover. @ieatmykidzsnack
—I'd like to put some meat and spices in a cock pot and 6 hours later get Enrique Iglesias. @ieatmykidzsnack

Thank God I was laughing because one by one all these crazy Crock Potters were trying to convince me that soft brown food is not just for those over 85.
I must have had over 100 replies about the crock pot. This is what most people want from twitter right?
I learned something that night. If you want to get people on twitter riled up you tweet: Breastfeeding/Formula, Work/SAH Mom, or Crock Pots.
——————————-
—I did get one idea that had booze. Booze in a crock pot set on low could be a game changer.
—After all that tweeting about Crock Pots, twitter put me in jail. This did not allow me to tweet real issues that night: Toddlers and Tiaras.
—Some got so worked up that I think they are organizing a Crock Pot Blog Hop.
—I went to a party tonight and ate food out of a crock pot. I can run but I can't hide.