I live for Halloween.  I go to conferences in May while other people are planning their summers.  I dedicate ½ my attic to storing skulls. I've saved 20 years of Martha Stewart October issues. I scope Pinterest year round to fill my eight Halloween boards with inspiration.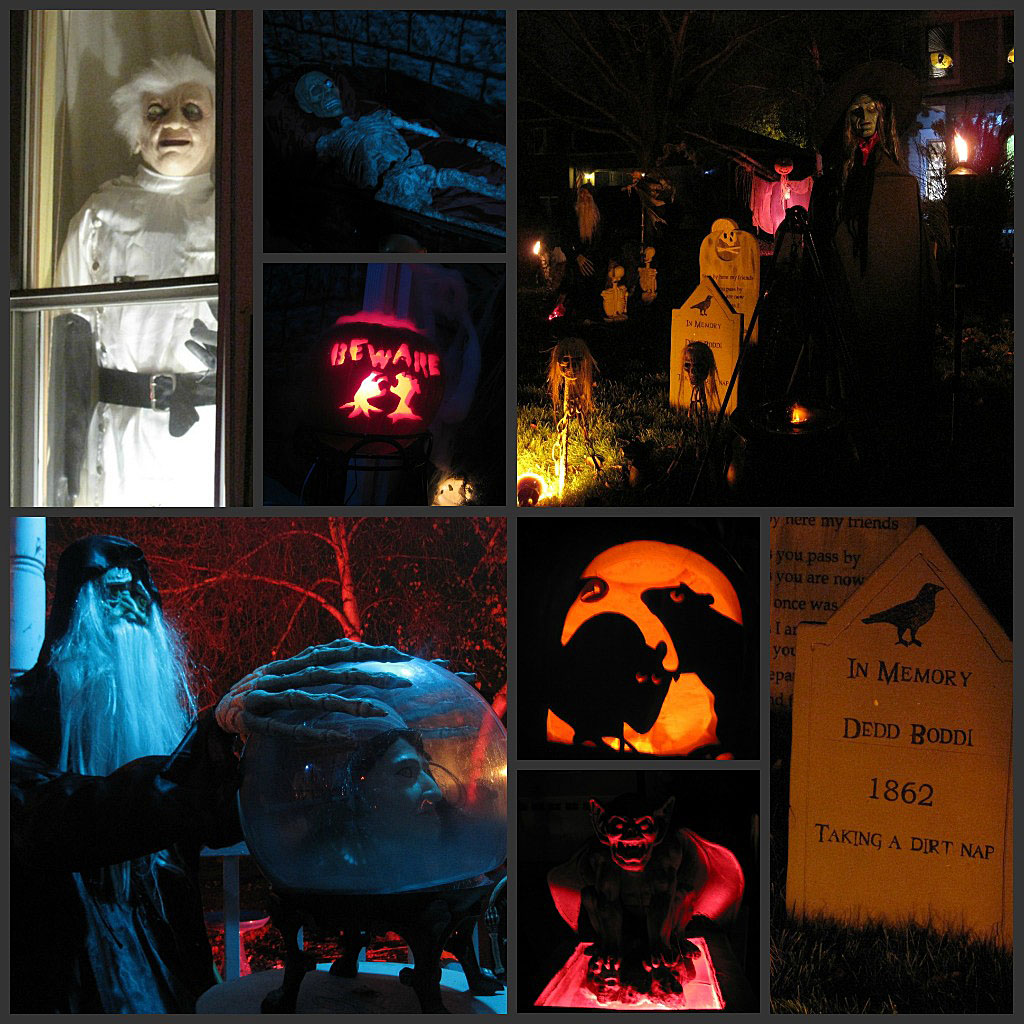 So, Nick, I get you.
Someone said this to me yesterday on twitter.
@TheNextMartha saw Trib article abt house in ur area having to squash over-the-top Halloween decor. Clicked only to make sure wasn't yours.

— Jen (@randomsideizzie) October 3, 2015
I immediately knew it was you. (You also may have seen his house last year as it went viral online and received national coverage.)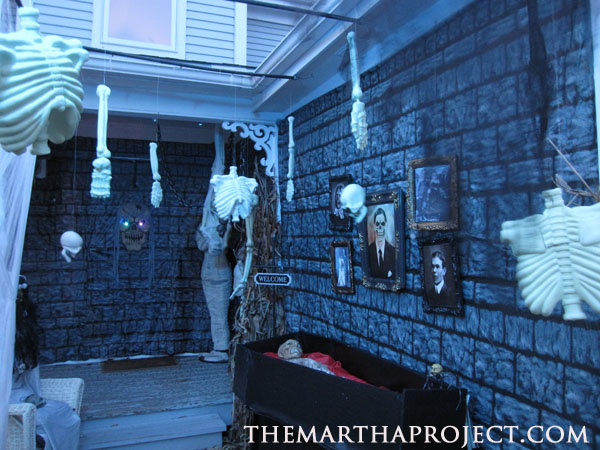 "Have you been over to the house on Conan Doyle?" is asked to me daily in October.  Last year when you got national coverage I was excited for you.  I even made it over one morning, and your neighbors may not even believe it, had the sidewalk to myself.
What you have going on is a huge heart coupled with passion and fun tradition for our community.
It's really too bad the HOA doesn't agree.
Now, I completely understand where you are coming from pledging to "go dark" this October.  You're hurt, annoyed, and angry.
You have spent
HOURS and hours and hours
MONEY and money and money
All in the name of fun for kids in this community.
But, Nick? Don't do it.
Don't let the HOA win. Please?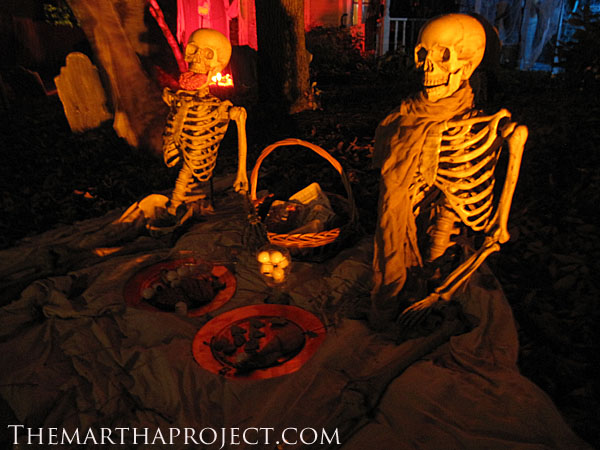 Hear me out.
Now, I'm going only off of that article and it says that you can only cover 50% of your yard, and that excludes lights.
So your famous light show is safe! Lights are excluded! You can still cover your house with all the beasts! And if we want to get technical, the stuff on shepherd's hooks are floating and not touching your yard. But I digress.
Here's some real talk, Nick.
FIFTY PERCENT is STILL A LOT.
You have 4 Pods worth.  Let's be honest. You have a lot a lot a lot.
Even paring down one or two leaves you with more than 99% of other houses, including mine and I've been doing this for 16 years.
And what do you do with the other part you aren't using?
Here are 2 options (though C is my favorite):
A)    You have a Halloween garage sale! Keep your favorite stuff, the rest? Let someone else enjoy.
B)    You give it to *anyone* in your neighborhood who wants to spookify their house. This way even MORE houses in your neighborhood have decorations! Surely you have many supporters. What better way to show the HOA how much others enjoy it by letting them decorate IN SUPPORT of you!   More decorated houses in your subdivision = BETTER and WINNING!
C)    Give it to me. #CallMe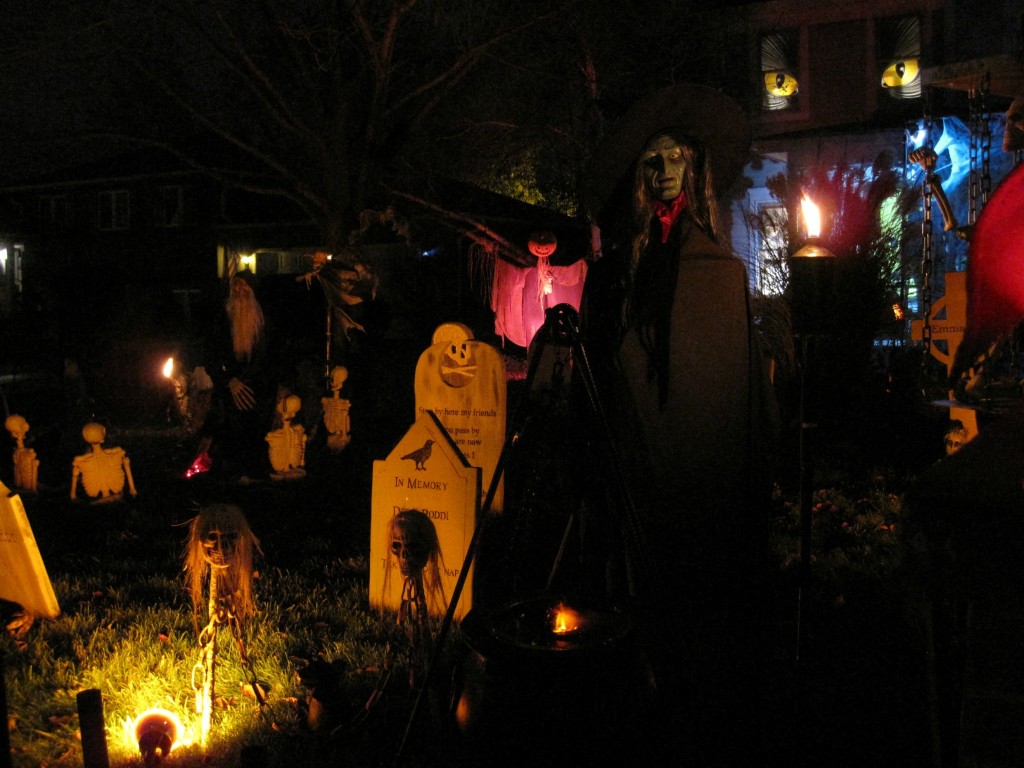 Another thing, I'd really hate for your charity to lose out based on a bunch of HOA Halloween haters.  6 thousand dollars is a lot to donate, well done you!
Think of the kids, community and charities, Nick.
So I'm asking you to not go dark.  Doing 50% still leaves you plenty of opportunity to show off your collection, entrance little kids with the season, and give you an opportunity to still donate to your charity of choice.
Think about the kids.
Think about the community.
Think about the charity.
As my last nudge and plea, I'm going to do something I've never done before. I'm going to add a charity element to my display.
I'm going to collect for Gigi's playhouse too.
Because us home haunters have to stick together.
I really hope you reconsider.
-Jen